Recent News
Scialog: Advanced Energy Storage Yields Intense Discussions and 35 Team Proposals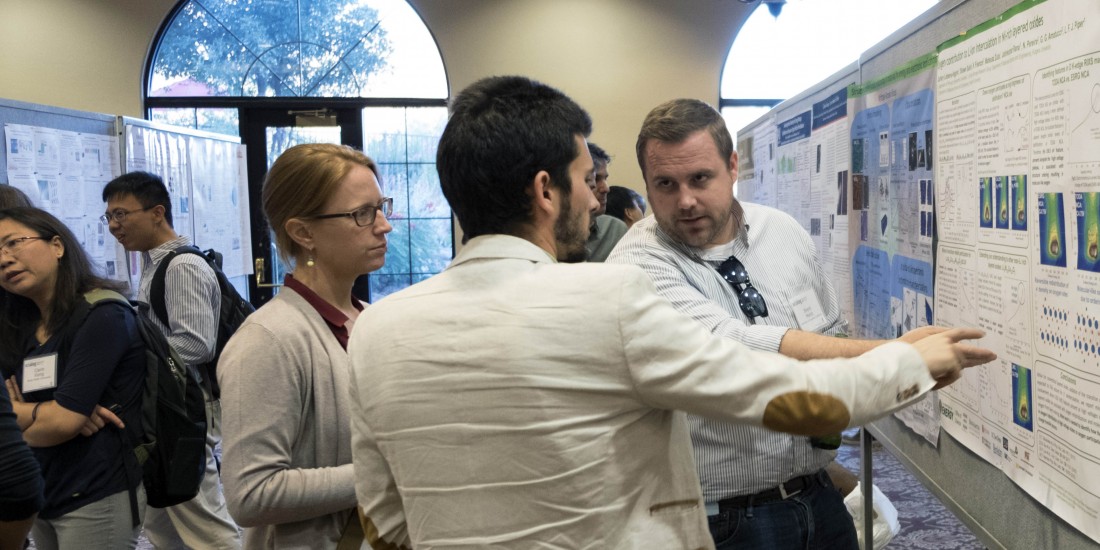 The first Scialog: Advanced Energy Storage (AES) meeting in Tucson, Arizona, Nov. 2-5, drew 58 new Scialog Fellows, who are outstanding early-career researchers from U.S. academic institutions, and 11 renowned facilitators. These rising stars participated in intensive discussions aimed at developing proposals for seed funding of truly transformative energy storage systems and novel research ideas to greatly improve efficiencies in advanced batteries, supercapacitors and related systems.
The conference yielded 35 competitive proposals, the most for any Scialog, created by teams of Fellows newly formed at the meeting. One of the goals of Scialog is to rapidly catalyze new collaborations, and members of each team are required not to have previously collaborated. Winning teams will be announced by the end of the year, according to RCSA Senior Program Director Richard Wiener.
Each Scialog brings together researchers from across traditional disciplinary boundaries – for AES chemists, engineers, materials scientists and physicists came together. Unlike most conferences, almost all the meeting time is devoted to carefully crafted breakout science discussions to explore novel ideas and develop a vibrant network of Scialog Fellows to advance basic research, which in turn can be applied to solve major societal problems.
"Research Corporation chose to focus on advanced energy storage," Wiener said, "because we believe this critical area of science requires major breakthroughs in fundamental understanding of electrochemical and physical processes that will lead to a new era of technological advance."
The Scialog process is not unlike that followed by Research Corporation founder, University of California, Berkeley chemist Frederick Cottrell, more than a century ago, said RCSA President and CEO Dan Linzer. In his opening remarks, Linzer noted, "Cottrell was studying basic chemistry but applied it to a pressing societal issue, air pollution. He invented the electrostatic precipitator. It charged particles coming up in smokestacks and caused them to precipitate out instead of going into the air. He changed that problem into a solution at that time. He was doing fundamental chemistry that applied to a real-world problem. Much like we expect advanced energy storage discussions over the next few days to do the same thing."
Conference keynote speakers, who set the stage for discussions, team formation and proposal writing, were:
Héctor D. Abruña, Émile M. Chamot Professor of Chemistry, Cornell University, who spoke on challenges and opportunities in electrical energy storage technologies, with emphasis on batteries, supercapacitors and redox flow batteries.
Karl Mueller, Chief Science and Technology Officer for Physical & Computational Sciences, Pacific Northwest National Laboratory, who focused on progress in merging operando studies utilizing advanced spectroscopies, in situ imaging, and computational chemistry to understand components of complex battery systems.
Amy Prieto, Professor, Department of Chemistry, Colorado State University, spoke about inexpensive, efficient approaches for electrodeposition of high-energy density anodes for batteries. Prieto also discussed her experiences as a founder of a successful start-up, Prieto Battery, and challenges and opportunities in moving research and development from an academic lab into the marketplace.
A panel discussion Friday night on "Opportunities for Scialog Fellows," featured comments from John Kopera, Vice President of Commercial Operations for Scion Power, an advanced battery company headquartered in Tucson; George Crabtree, an Argonne National Laboratory Distinguished Fellow and Director of the Joint Center for Energy Storage Research; and Nancy Haegel, Director of the Materials Science Center in the Materials and Chemical Science and Technology Directorate of the National Renewable Energy Laboratory.
In addition, Joan Woodard, Executive Vice President, Emerita, Sandia National Laboratories, discussed her role as a member of the Board of Directors of Research Corporation for Science Advancement. Woodard challenged Scialog Fellows to encourage the next generation to continue developing new methods for using and conserving resources in optimum ways.