AZ Partners in Science - 2013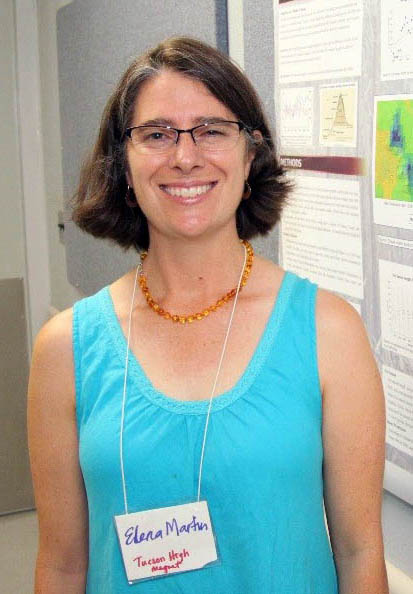 Predicting Changes in Vegetation and Wildfire Patterns in the Context of a Warming Climate in the Catalina-Rincon Mountains
Helping to Prevent Wildfires
Wildfire in the American Southwest has destroyed millions of acres in recent years. The Catalina and Rincon mountains of Southern Arizona have seen more than 100,000 acres burn since 2002.
Elena Martin, who teaches environmental biology at Tucson High Magnet School, has been involved in a University of Arizona research project to collect and analyze data in hopes of predicting how a changing climate affects vegetation and fire seasons in the Catalina-Rincon ranges.
Under a grant from Research Corporation for Science Advancement, Martin is working under the supervision of Associate Professor Gary L. Christopherson, in the UA's School of Geography and Development. The arrangement is part of RCSA's Partner's in Science program, which matches high school science teachers with university researchers with the long-range goal of improving high school science teaching.
"When I started this project I didn't know much about fire ecology, which is a whole area of environmental science," Martin said. "I've since learned a lot about how wildfires start; I learned that according to the most recent climate models our temperatures are going to be increasing by four degrees within 100 years in the Tucson area, and a couple degrees in 50 years."
Martin said her studies tell her the biggest impacts are likely to be in the higher elevations, which are home to Southern Arizona's most vulnerable species.
"Those life zones may shift as a result of changes in climate and rainfall," she said. "I also learned how complex the study of climate change is and how we actually measure those changes, which is not an easy thing to do because it's such a long-term process."
Specifically, in her first year of a two-year award, Martin has been learning how to use a geographic information system (GIS) to map the effects of climate change on the length of the fire season and on the location of index vegetation species in different eco-zones in the Catalina/Rincon complex.
As a result, she said, "I have a deeper understanding of climate data and the things I actually teach about climate. GIS a great tool for students and I have a lot of project ideas for them to look at the environment using mapping skills."
Next year she hopes to get her students into the field to help with her studies.
"It's been really nice to get out of the classroom and into the field," Martin said. "Maybe that was the most exciting part of this year's work."