Cottrell Scholar Awards - 2010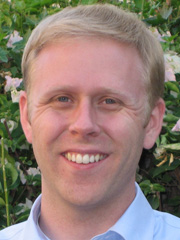 A Generalized Synthetic Route to Nontoxic Semiconductor Nanocrystals for Use in Inexpensive Solar Cells
Research
Richard Brutchey received his Cottrell Scholar Award based on his proposal to develop methods for the low-temperature synthesis of semiconductor nanocrystals for use in solar cells. "Nanocrystals are ideal candidates for solar cells because they can be made in solution - using 'wet' chemistry - and they can be inexpensively deposited on a substrate," he says. "Lower temperature routes to these nanocrystals make the synthesis more energy efficient, and we are coupling this with the exploration of materials that are less toxic and more earth-abundant than cadmium-based materials." (Cadmium, a toxic metal, is a byproduct of copper, lead and zinc mining. The U.S. Labor Department has said it can cause lung and kidney problems. Cadmium compounds are used in some in some of today's thin-film photovoltaic panels. Industry spokespersons say the compounds are much safer than cadmium alone.) Brutchey and his associates have discovered that substances called "dialkyl dichalcogenide precursors" allow them to make a wide range of semiconductor nanocrystals at low temperatures (25 - 180 °C). They propose creating nanocrystals with this substance and metals of various other ingredients, including copper, indium, and tin. The goal is to develop relatively inexpensive, nontoxic solar absorbers that are more readily able to convert the different colors (energy levels) of the photons in sunlight into electrons to produce electricity. Brutchey will incorporate his new nanocrystals into hybrid polymer-nanocrystal solar cells to assess their utility.
Education
Brutchey is leveraging his expertise in nanoscience to create a formal bachelor's degree emphasis in Chemical Nanoscience
in the hopes of enrolling more chemistry majors by making the curriculum timely and relevant.
A summer internship has been developed between USC and a local minority-serving community college to
introduce students to solar energy research and encourage them to major in STEM disciplines upon
transferring to a four-year college or university.